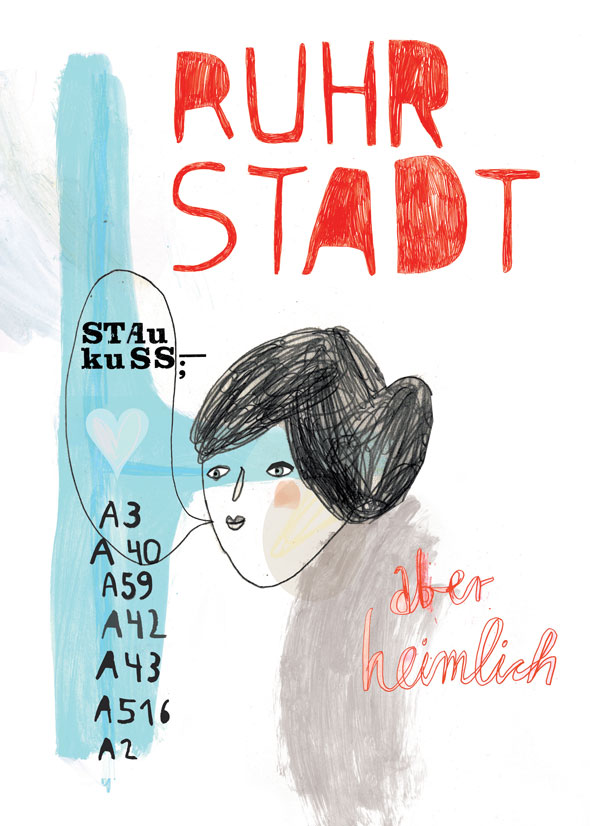 Are you secretly kissing on the autobahn?
In the last weeks I made this poster for
Human Empire Store's City Poster Contest
. It is a poster for
Ruhrstadt
, the modern city concept for the ruhr area as a metropolitan region – where I live and work – and i kindly ask you to …. please vote for my poster. Put your secret love for Ruhrstadt into this voting!
It's really easy. Just write a little mail to voting@humanempire.com with my number (53) my name (mareike engelke) and the city (ruhrstadt). Or copy and paste this: 53 | Mareike Engelke | Ruhrstadt. You see, i really want to be one of the new artists in this poster series.
You can win three vouchers worth 50 € for the
shop
. They have fantastic items and ship worldwide from Hamburg.
thank you!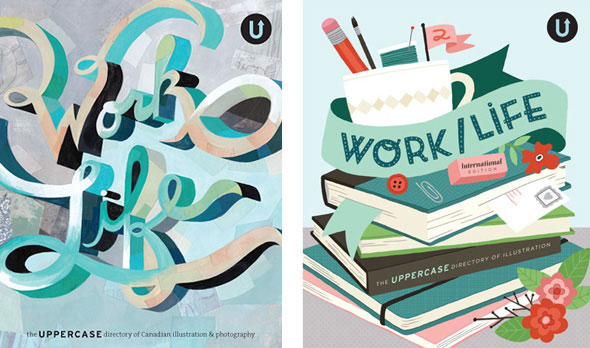 hi.
I haven't mentioned it yet but i will be a part of
work/life3
which will be published in august.
Last year I
contributed
an illustration to the magazine
UPPERCASE
. It is curated and designed with a lot of heart and soul by Janine Vangool. Now she asked me to be a part of Work/Life 3: the
UPPERCASE
directory of international illustration. This was a pleasant surprise for me. Oh my.
Then I
took a look at the 2 Last issues
and got even more aware how adorable the publication is and how much talent is collected in one book. Big names.
Then I asked myself if this publication, which will be send to 1000 art directors in North-America could change anything for me. And one thing changed in this very moment: I instantly knew that I will need to improve my english-skills for eventually calls from aaaallllll theeeeeseeee potential clients assigning illos. Mmhhh. Yes.
And once i thought about this, my prospective english teacher – she and I met some years ago at a seminar – wrote an email to me. the other way around. it's true. So one thing already changed. Let's see if anything else happens …
Now i am working on the illo for my spread, a very personal artwork. On the other page will be photos from me, my workplace and an informational text about me, my life and my work. I am totally curious about it.
I think it will be a fantastic book with fantastic artists and it's still unbelievably i will be a part of it.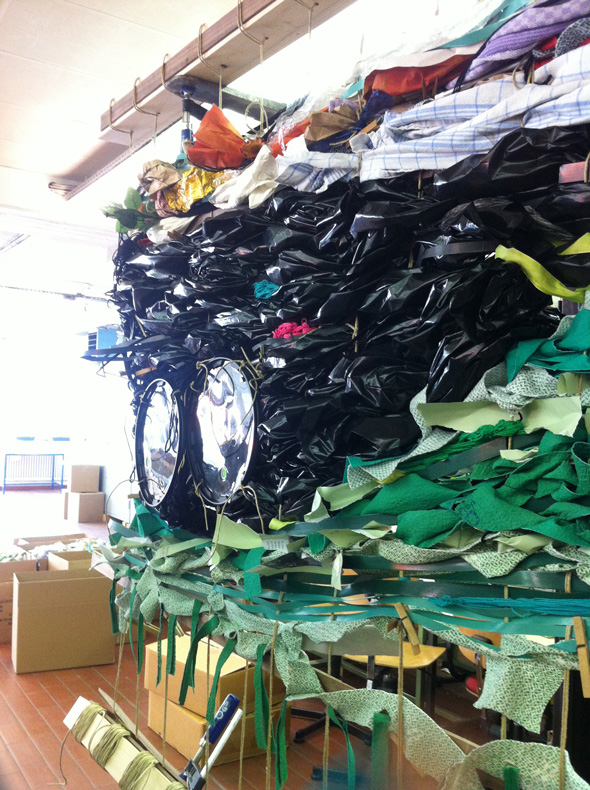 // The first woven meter on our loom //

On saturday a small delegation of our studio hafenkult organized an action weaving workshop with a handful of group leader in a sheltered workshop at WfmB in Duisburg.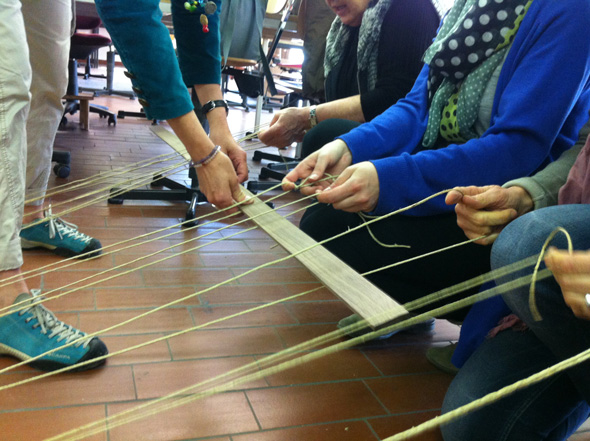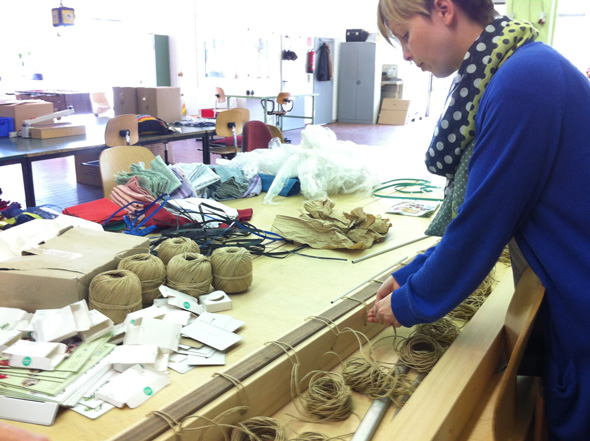 // Fee assembles the weaving loom. //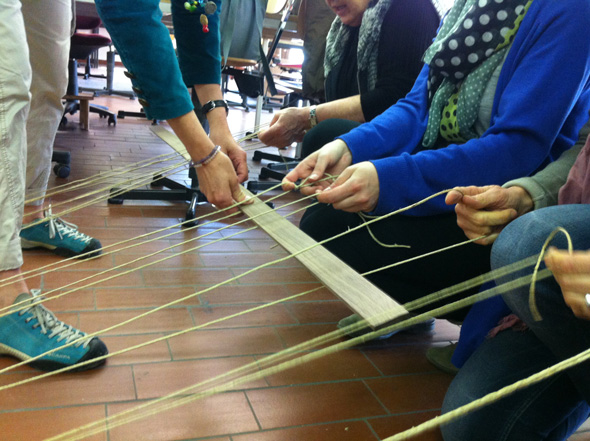 This over-dimensional weaving loom, it is 1,5 m to 7 m and hangs on a forklift is assembled to weave a really large striped rug. All the material in the rug has been collected in the workshop, wool, old bicycle tubes, wood, textiles, paper, plastic bags and a lot more. We sorted them by colours to create stripes while weaving. It will be completetd on the summer fete in july to celebrate 40 years of the workshop for handicaped.

By the way:
WfMB has two wonderful restaurants: Der kleine Prinz and – which i really recommend – Ziegenpeter, at Rheinpark where everyone, with or without handicap can get together to eat some really good food and have a great view on the rhine and watch the container ships drive by.

WfMB also has a tiny designy shop Ars Vivendi. They sell well created goods from sheltered workshops all around the world. You should really stop by when you're in Duisburg.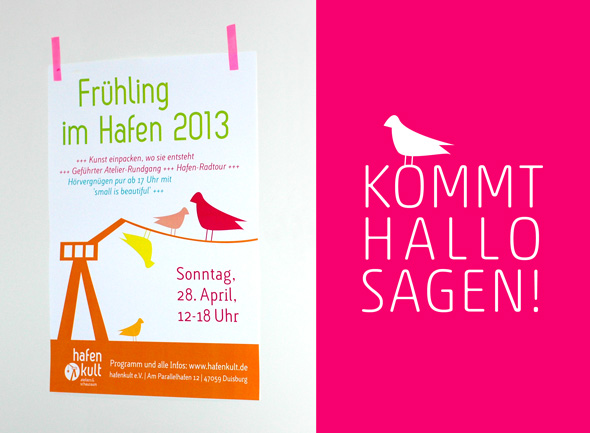 Liebe Kunstfreunde!
Ich möchte euch herzlich einladen zu:
Frühling im Hafen
Sonntag, den 28. April 2013, 12-18 Uhr, Am Parallelhafen 12, 47059 Duisburg

Der Blick auf den Hafen ist freigegeben.
Die Ateliers sind geöffnet, es darf geschaut, gestöbert, gefragt, gekauft werden.

Um 15 Uhr bieten wir einen geführten Rundgang durch die Ateliers an und
ab 17 Uhr spielt die grandiose, große, kleine Band "small is beautiful".

Ein Flyer ist im Anhang.
Mehr Infos findet ihr hier und hier

Kommt einfach vorbei und sagt Hallo!
Freue mich, euch zu sehen!

*****
http://translate.google.com/translate?sl=auto&tl=en&js=n&prev=_t&hl=de&ie=UTF-8&eotf=1&u=http%3A%2F%2Fmilkk.it%2Fblog%2F205%2Ffruehling-im-hafen-offene-ateliers&act=url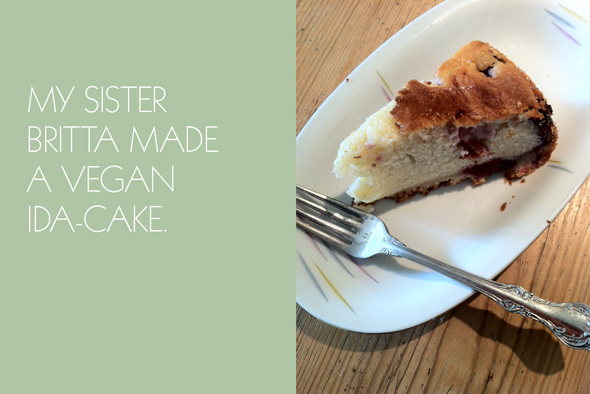 My beloved sister came around – a vegan adaption of the famous Oma-Ida-Cake in her hands, which is made simply with one or more cups of all ingredients.

I am not much experienced, but vegan bakery is always a little delicate (hihi) – but this cake was sensationally juicy, light, soft and simply delicious.

Maybe because of the obscene long baking time … one afternoon patiently waiting, maybe it's the love she puts in everything she does.

If this was an one-time phenomenon or if it is reproducible has to be proven.

Here's the recipe adapted from Oma Ida:



Vegan Ida-cake

Choose a cup with approx. 250 ml

Mix
4 cups flour
1 cup sugar
1 cup oil
3 cups soy yoghurt
A little bit vanilla flavour
6 tsp baking powder

Add
2 cups fruits of your choice
we had preserved cherries and fresh blueberries

Bake at 150° C for 90 minutes.
If it gets to dark cover it with aluminum foil.

Good luck!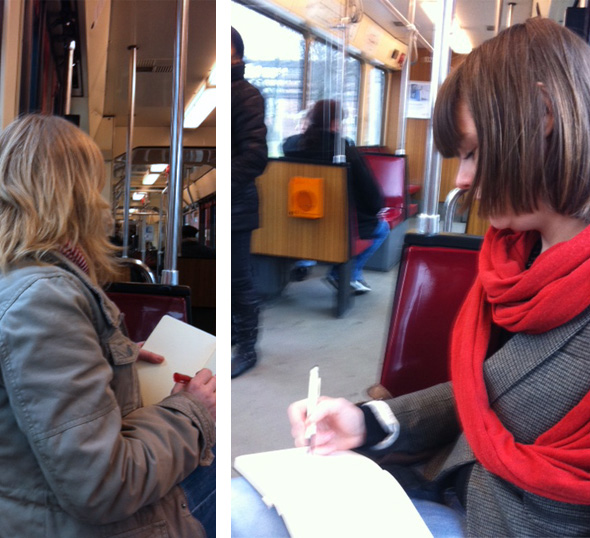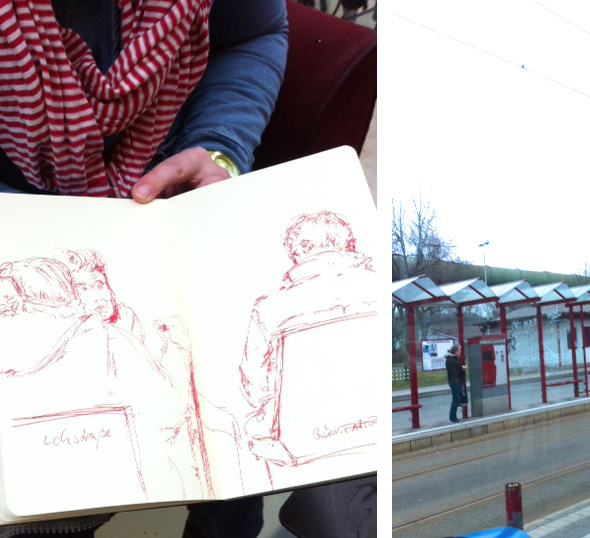 Yesterday Katrin, Elke, Gudrun and I rode with the tram in Duisburg drawing for one hour. It was Linie 901 which goes right through a lot of districts and then turns.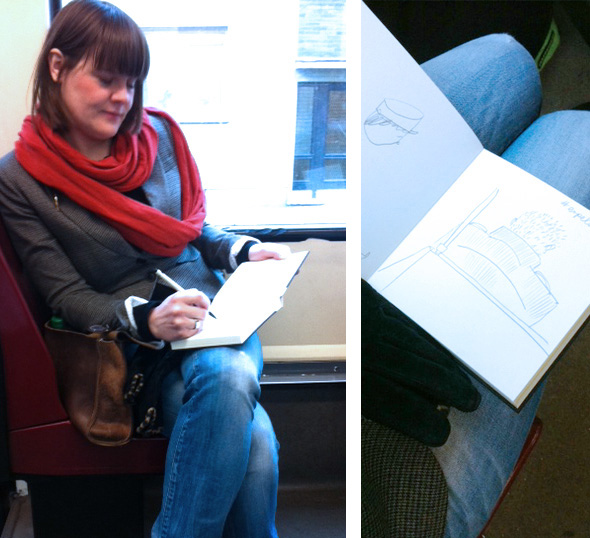 I made quick sketches of the passengers getting on and dropping out. Often within the same minute. Sometimes only 2 lines drawn. One drawing per station. We had a lot of fun with this secret drawings – although some noticed it anyway, i think.